2021 and the early months of 2022 saw low inventory, record-high housing prices, and low interest rates across Kelowna (and many cities in Canada).
In efforts to tame inflation, the Central Bank raised its key interest rates seven consecutive times since March 2022, bringing it from 0.25% to 4.25%. This is the highest its been since January 2008.
Inflation peaked at 8.1% in June and has been declining since. November's inflation rate was 6.8%.
While it is predicted that interest rates will level in 2023, economists are divided in whether there will be one more rate hike in January, or if the central bank will pause additional hikes.
Is Now A Good Time to Buy?
To buy the same Single Family Home in December 2022 vs March 2022 (the peak of the market, but also lower interest rates):
*you would need less down payment (a savings of $44,000+)
*your monthly mortgage payment would be more (by $242)
*but your overall cost of borrowing is $162,689 less!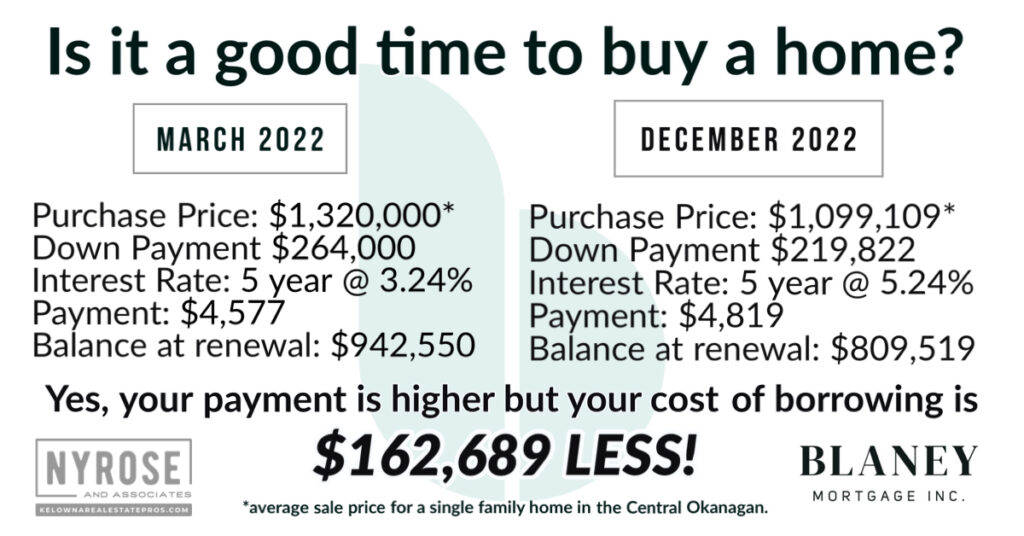 Waiting is actually costing you money!
There's never a bad time to buy - it's your strategy that counts. If you've been thinking about making a move, give us a call at 250-258-9888. We'd love to strategize with you.
*Thanks to Clayton Blaney with Blaney Mortgage Inc. for putting the numbers together. You can reach him at 250-878-2333