Kelowna Real Estate Stats & Trends - Market Watch With Kelowna Realtor Darcy Nyrose
September 1, 2022 - In this month's report, Darcy Nyrose recaps the Kelowna real estate market activity for August 2022 and what we can expect to see as we head into fall. And, for those who have been hearing the rumours that our market has crashed, the numbers tell a different story. In fact, the stabilization of the market is a good thing for anyone with an interest in real estate including homeowners, buyers, sellers and those in the industry.
Watch as Darcy Nyrose shares what happened in the Kelowna Real Estate Market in August 2022
Kelowna Real Estate Market By The Numbers
Kelowna Condo Real Estate Market Stats - Numbers for August 2022
Inventory is way up over this time last year, sales are on the rise over the summer months and prices have risen over 30%, due in part to some boutique new development sales. There were 4 condos sold over $3-million, plus an additional 9 condos sold over $1-million.
Kelowna Townhome Real Estate Market Stats - Numbers for August 2022
Townhome inventory is way up over last year - - plus there are several presale projects that are not on MLS that buyers are able to purchase - further increasing selection. Sales are down over last year and up slightly over July, and pricing has crept up from June, July, and last year too.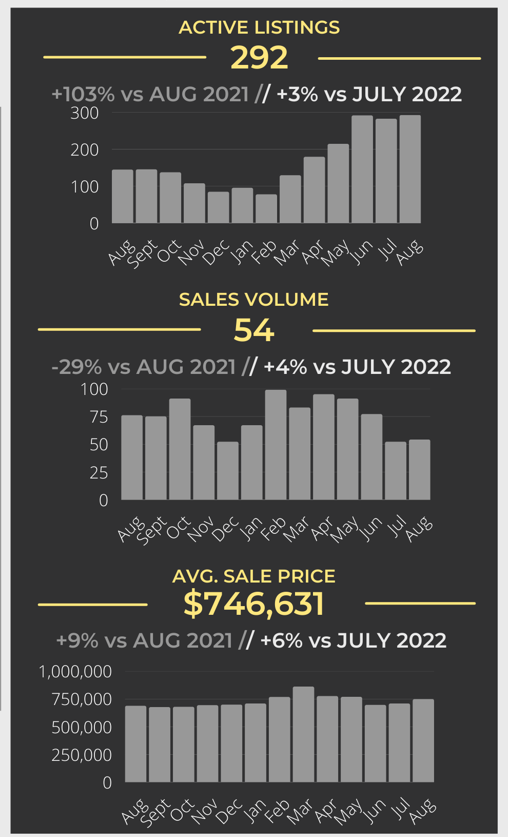 Kelowna Single Family Home Real Estate Market Stats - Numbers for August 2022
Inventory is down slightly over July, but we're back to normal single family home inventory for this time of year - a big improvement over last August. Although sales are up over last month, we're still down over this time last year. The average sales price of a single family home has dropped over last month, and slightly over last year.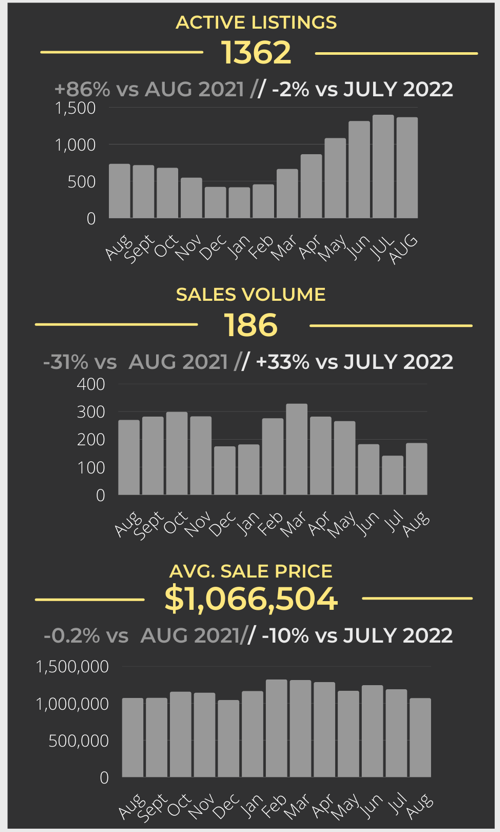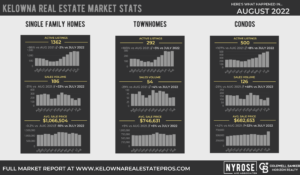 If you're looking to buy or sell Kelowna real estate, contact Nyrose & Associates today!