Moving On Up is Getting More Difficult
The pricing gap between home categories makes it difficult for many households to up-size. 
It's no secret that Kelowna housing prices have increased tremendously in recent years - cities across Canada are seeing similar growth in pricing and activity. While we often compare pricing by category types on a month-to-month or year-over-year basis, it is also important to examine the cost differential (or pricing gap) to move up between property types.
You often hear how difficult it is for first time buyers to enter Kelowna's market. But what about those who already own a home in Kelowna? For those buyers looking to upsize their home and move from a condo to a townhome, and especially a townhome to a single family home, the spread between property types can make it more difficult than ever for today's homeowners to move up the proverbial market ladder.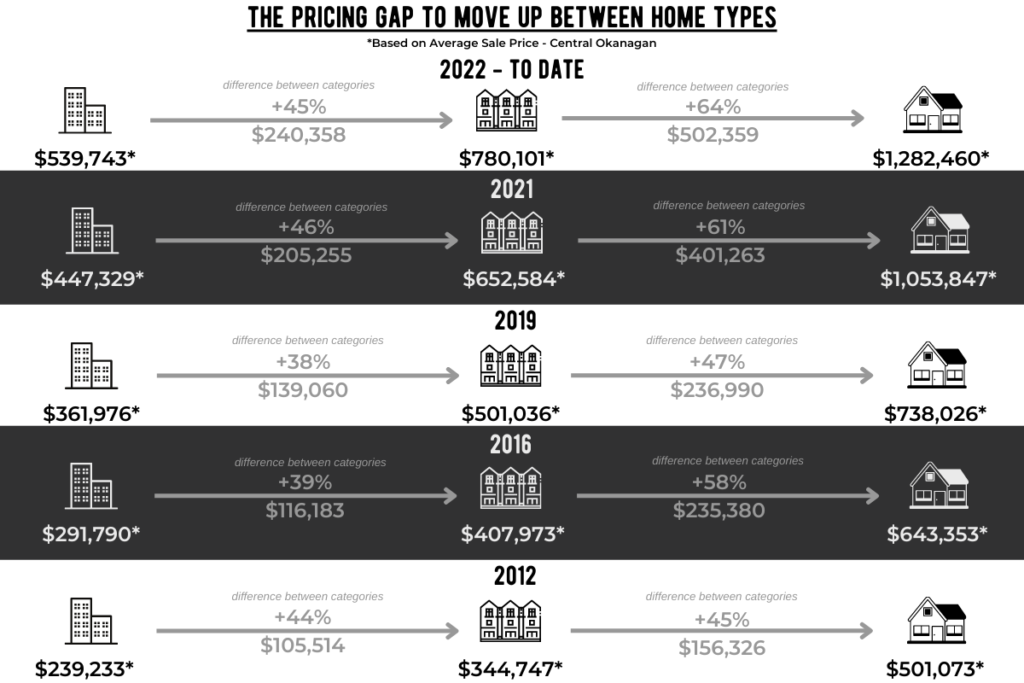 So far this year, we're seeing a 45% price difference (or $240,358) to move from a condo to a townhome; and a 64% price difference (or $502,359) to move from a townhome to a single family home, based on average sale prices for the Central Okanagan.
2021 was much the same, with a 46% price gap between condos and townhomes (or $205,255), and a 61% gap between townhomes and single family homes (or $401,263).
While there is always a spread between property types (based on average sale prices), it isn't always such a large gap - in 2012-2015 that spread was generally in the mid 40%s. Back then, increases in year-over-year prices by category were also only in the single digits.
2016, a hallmark year for real estate pre-covid-19, saw the average sale price in all categories increase into double digits (over 2015). To follow suit, there was also a big jump in the price gap between a townhome and a single family home (58% or $235,380).
The year-over-year price increases almost came to a halt in 2019. Single family homes actually dropped 3% in pricing over the year prior, townhome prices only increased 1% and condos increased 4%. Then, from 2020-on, we've been experiencing record-breaking real estate activity.
How long will these historically high price increases be sustainable?
Over the past month and a bit, we've been seeing the market start to stabilize. The indicators of this include less multiple offers and homes sitting on the market a little bit longer. The natural ebbs and flows of real estate could begin to make it a little bit easier for some households to make their next up-move.
Now more than ever, households are having a more difficult time 'upsizing' without help or moving locations (and yes, Kelowna did get a bump in buyers from more expensive markets like Vancouver and Toronto). However, as the market stabilizes, the price gap between categories should stabilize as well.
Of course, for those looking to downsize and move the other way on the market ladder, there's myriad of opportunity to make a move. The cost differential between categories can be very financially favourable.
Make Your Move - Let's Chat Real Estate
If you're looking to make the most of today's (or tomorrow's) real estate market, whether it's an up, down or lateral move, we're here to strategize and ensure you're market ready.